Patient Centered Medical Home
We are pleased to announce to you that we have officially been recognized as a Patient Centered Medical Home through The National Committee of Quality Assurance (NCQA). 
What does that mean for you?
The NCQA Patient-Centered Medical Home standards emphasize the use of systematic, patient-centered, coordinated care that supports access, communication and patient involvement. The PCMH model places an importance on putting the patient's needs at the forefront of their care.
This recognition basically points to our deep devotion to ensuring that the quality of care we provide our patients stands as our number one priority. Not only will the recognition positively impact our practice and staff, but it will also benefit our patients and community so that everyone can feel confident in the ongoing care being received from our practice. PCMH notes that we stand out in the most critical matters such as our relationships with you, continuity of the care we provide, comprehensiveness of that care, accessibility to us, and quality of our performance.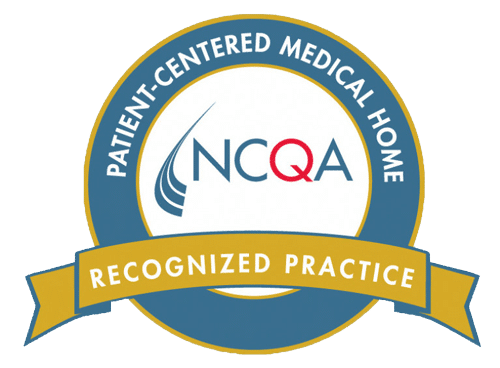 To know you and your family. We will manage your health care and will answer your health-related questions.
To work with other medical experts, including specialists.
To track your health information using an electronic medical record, which is accessible to you at any time on our website.
Offer convenient office hours to help you get an appointment at a time that works best for you.
To provide an on-call assistance for after-hours care.
To work with you and your health care team to develop a personalized health care plan based on mutual goals and the latest medical evidence.
During your visit, your provider will instruct you on when you will need to return for follow-up care. You will be given a clinical visit summary and an appointment reminder sheet with this information. If you need us at any time prior to your follow-up appointment, please contact our office at (803) 932-2200, Monday-Friday 8am – 5pm , and we will assist you.
If you need assistance after hours or on the weekend, call the office and you will be assisted for after-hours care. If you have any questions, please don't hesitate to ask us!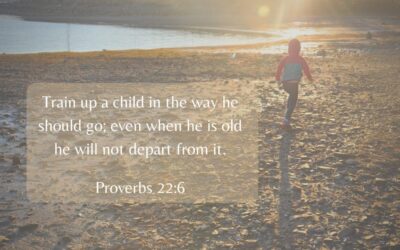 "Train Up a Child" continues with a peek into the beautiful verses of Psalm 127:3-5. Enjoy!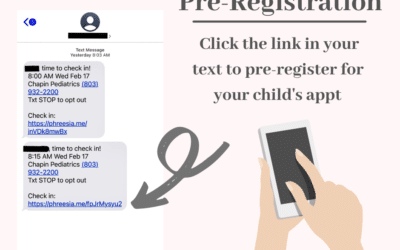 We often provide you with a text with links for Appointment Pre-Registration. Clicking that link allows you early check-in!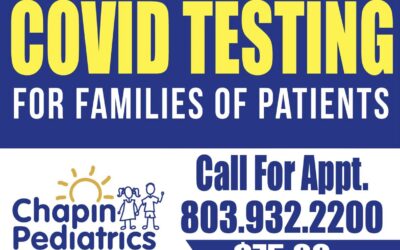 We now avail COVID testing to you and ALL your family members. Our staff can provide you results in 15 minutes AND YOU NEVER leave your car!
ADDRESS
723 Chapin Road
Chapin, SC 29036
OFFICE HOURS
Monday through Friday, 8:00am-5:00pm.
We do not close for lunch.
Saturday hours are 8:00am-12pm.
We share call with Ballentine Pediatrics and we post weekly who is on call.